The Best Air Ambulance Services in Chennai at Lowest Cost
Chennai is a metropolitan city and the capital of Indian State of Tamil Nadu. This city is the biggest economic, cultural and educational Centre in South India. It is the fourth largest city as well as most populous urban agglomeration in India. It is the city which named as "The Health Capital of India". It has been ranked as the third largest economy in India as well as the third most populous city. It is also selected for smart city under the project of PM's Smart City Mission. It is also known as "Gateway to South India" because the most places of south region are touched through passing by this city. The climate of the city is tropical wet and dry climate. The economy of Chennai is so strong by which it can stand at the third largest economy in India. This city is also largest bank deposit and the largest credit Centre nationwide. Chennai has the head quarter of Indian Bank and Indian Overseas Bank. It has the most world-class health care and medical facilities including government-run and private hospitals. It has one domestic airport named Chennai, India (MAA) and Chennai International Airport.
Call Us We Will help to Shift Your Patient from Chennai to Delhi, Mumbai, Bangalore and Anywhere in India☺
Low-Cost Air Ambulance Services from Chennai- Hire Today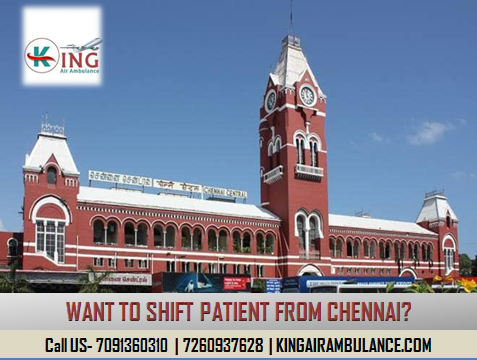 King Air Ambulance Services in Chennai is emergency services provider from Chennai to other cities by Charted Air Craft, Commercial Jet Airlines and Train or Rail Ambulance. It has the number one and world class doctors' panel from every department to the serious patients as well as the full time working and expert team of paramedical technician team members. It has all types of urgent and advanced medical equipment. It is available to anyone in low cost, reliable services and effective treatment to one's patient only after the serious call booking. The mode of call booking is online and offline for the guests or clients. It is ready to take the response any time, 24 * 7 hours and round the clock. There are lots of branches in all over India of King Air Ambulance Services from Chennai. There are many patients are being transferred by Charted Air Craft and Train Ambulance these days from Chennai to other cities. We also shift patient in train ambulance from Chennai
We also transfer patient in commercial airlines from Chennai International Airport with Medical Team
Air India Airlines service from Chennai to Ahmadabad, Bangalore, Bhubaneswar, Delhi, Goa, Hyderabad, Kochi, Kolkata, Kozhikode, Madurai, Mumbai, Port Blair, Thiruvananthapuram.
Jet Airways Airlines Destination to Abu Dhabi, Kuwait, Singapore, Amritsar, Bangalore, Bhubaneswar, Chandigarh, Delhi, Goa, Indore, Jaipur, Kochi, Kolkata, Lucknow, Mumbai, Port Blair, Vadodara
SpiceJet – Ahmedabad, Bagdogra, Visakhapatnam, Thiruvananthapuram, Port Blair, Pune,Surat, Vijayawada, Guwahati, Jaipur, Bangalore, Mumbai, Delhi, Bangalore, Madurai,Kolkata, Coimbatore, Mangalore, Hyderabad, Tuticorin, Kozhikode, Hubli, Kochi, Goa, Belgaum